We are excited to be exhibiting at the I Do For Us Too event!  Save the date for thus Sunday, November 4, 2012 from 1:00 pm – 6:00 pm at the Hilton Vancouver, WA!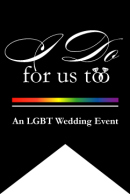 We are a proud exhibitor and would love to see you there!  Come and visit us at our space, be inspired, get great resources, and show your support!  
It's an LGBT event, but all couples are welcome to attend.