Your wedding day is an exciting, event filled day that has the potential to be stressful. One of the best things you can do to ensure you have a low stress day is to plan ahead. Check out our tips for a stress free wedding day below!
Choose to get ready in a location that has lots of natural light. Your makeup artist will appreciate the natural light and your photography and cinematography team will be able to get the best shots as well.
Allow 30-60 minutes of extra time for hair and makeup than you originally anticipate.  This will alleviate the number one reason wedding schedules end up running behind.  This will also ensure you have plenty of time for all the portraits you want to take prior to the wedding without feeling rushed.
Plan to have your hair and makeup trial at least a month before your big day.  This peace of mind knowing exactly how you will look as well as the opportunity to make any changes in advance if necessary is priceless. If possible bring all your jewelry and/or headpieces to the trial to ensure the makeup and hair work well with them too!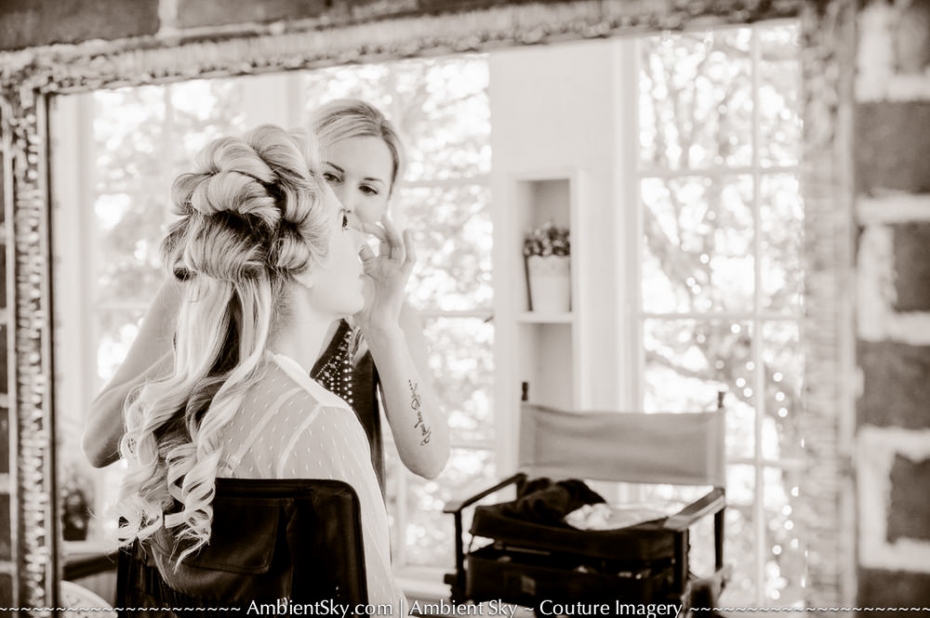 Find something special for you to wear while you are getting ready.  Something cute and comfortable that is easy to get out of without messing your hair and makeup.  If you're wearing a strapless or shoulder bearing dress, remove your bra straps early in the day to alleviate any strap marks on your skin when it's time to get into your gown.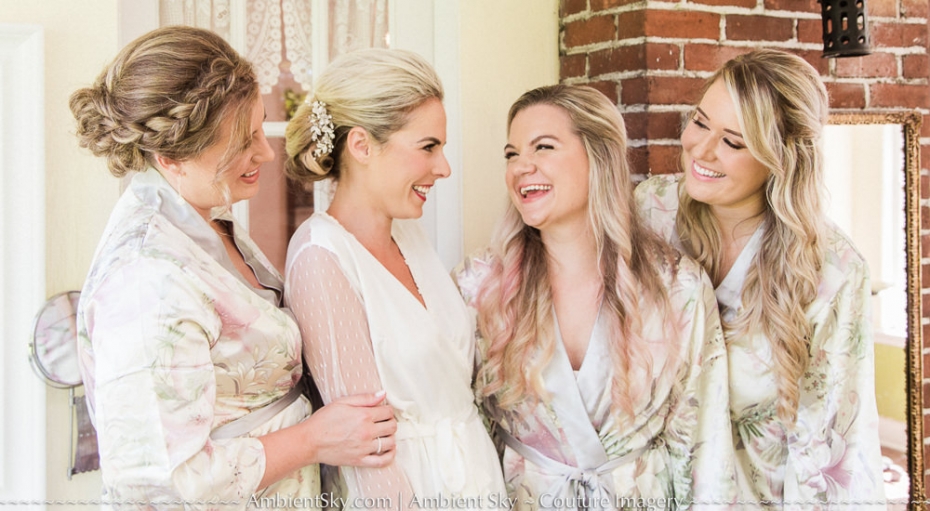 Have food delivered to your getting ready location. You, your wedding party and family will be so busy, having snacks to keep hydrated and nourished is essential to keeping everyone happy and healthy.
Have your florist scheduled to deliver your flowers and the wedding party flowers to where you are getting ready. That way when you do bridal portraits and photos with your wedding party, you have the flowers to complete your look. This includes the guys too. Having their boutonnieres ready for them while getting ready is ideal. If not, often you have to wait for them which holds up finishing your wedding party photos.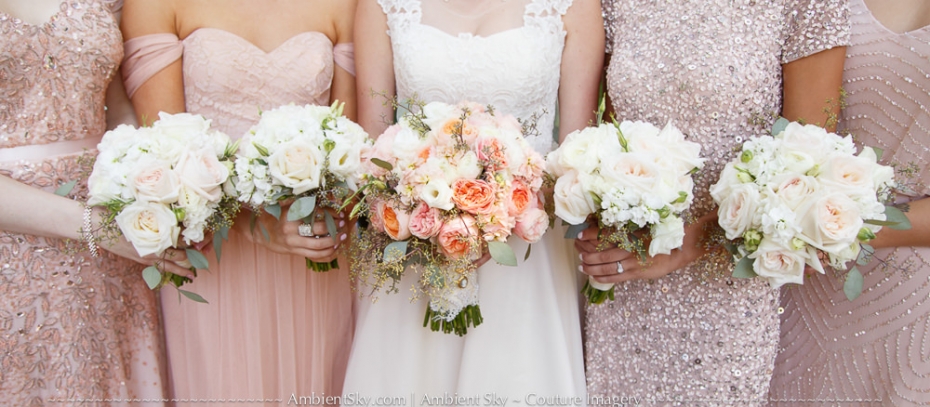 If possible, schedule to have your formal photographs taken before the ceremony. Most couples choose to have a "first look" moment where they can connect with each other privately before the formal photo session.  We love this moment, as it allows our couples to really connect on their wedding day before all the main events and the guests arrive. Also, getting the photos done before frees up time for you to spend with your guests.  You, your wedding party and families will be able to go straight to cocktail hour and catch up with all your loved ones also allowing your photography and cinematography team to capture candid moments.


Find out what rules your ceremony venue might have in regards to photography and cinematography. Preferably before booking the venue, so you know you are comfortable with their restrictions.  Some locations restrict where the team is allowed to be as well as flash photography during the ceremony.  Knowing this up front and sharing it with your imagery team will make for a smooth experience on the wedding day.
Make sure someone reliable knows how to bustle your dress.  Have this friend or family member attend your last fitting and get the low down on how to do it.  Better yet, have them take video of the process on their phone just in case, they forget a step!

During your reception, make sure you are first to get your food and actually make an effort to spend a few minutes with your new spouse eating dinner.  The day is very busy and unless eat right away when dinner begins, chances are you won't get to eat.  Also, ask your caterer to box up some leftovers to take with you at the end of the night.  Every couple comments that they are so hungry at the end of the night.  Having a yummy take-out meal with you is ideal as some locations are limited on late night food options once back at your hotel suite.
Have a backup pair of shoes for later in the evening.  Often your coveted Christian Louboutin heels are better to look at than to dance in.  Bring a cute but practical option to swap into once the dancing really kicks up.

Hire a wedding planner or day of coordinator to take care of all the little details. So many couples think they can do it all on their own, and this just creates undue stress on the wedding day. You and your fiancé as well as your friends and family should all be guests at your wedding.  Asking them to set up decorations or other tasks will not only add stress, it will prevent them from being present in all the events of the day.
Remember the big picture – what is most important above all else about your wedding day. You can't control everything so if something doesn't work out as planned, just roll with it.  If you are having a wonderful time, savoring the experience of marrying the love of your life, and celebrating with your loved ones, then all of your guests will have a great time too!

Hire a professional photography and cinematography team that specialize in weddings, giving you peace of mind on your wedding day.  Knowing that they consistently perform wedding after wedding and are fun to work with are essential to a stellar experience on your wedding day. You should never have to worry about whether they will miss a shot or be awkward to work with on your special day.
We hope you enjoyed these tips for a stress free wedding day. Happy Planning!
Want more planning tips?  Check out our Photography and Videography Guide HERE!
Ambient Sky has been providing couples with heirloom photography and wedding films for over 12 years.  As a husband and wife team, we understand how special this day is to you and how important it is to have heirloom quality artwork for future generations to enjoy.  Contact us today to schedule your personal consultation.  We would love to hear your story!