We hope you enjoy our Ambient Sky Photography & Videography Wedding Guide. As one of the top Portland Wedding Photography and Videography studios we have lots of information to share with you. If you want to get more info on the Ambient Sky experience for your wedding day we would love to meet with you. Fill out our Contact Form or email us. This is the first part of the Photography & Videography Wedding Guide, for the second and third part scroll to the bottom to continue to the two other pages!
How to Choose Your Wedding Photographer & Videographer
Your wedding film and photography are quite possibly the most important decisions you make for your day.
Aside from who you choose to marry, your wedding film and photography are quite possibly the most important decisions you make for your day. They are the only tangible things that remain after your wedding day. So keeping that bigger long term picture in mind is really helpful when choosing your wedding photographer and videographer. Don't compromise on your decision. You want to love the work of the studio you choose, so you will treasure your wedding photos and wedding video for years to come.
Start by browsing a studio's web site.
With such and important choice to make, start by browsing a studio's web site (hey, you're here so you've already got that first part down)! If you like what you initially see, spend a good deal of time looking at as many samples as possible. Watch a variety of films. Look at slideshows or galleries of photography. Not just a small selection of their best, look at lots of different weddings. Are they not only creating signature images, but also capturing each element of the day in a way that resonates with you. Capturing weddings are a specialized genre and having an imagery team that understands the flow of a wedding day is key. Any good photographer should be able to create decent portraits, but can they create beautiful portraits under the constrains of a busy wedding day and capture all the timely moments that go along with a wedding day. Look for consistency in their work. Are the images crisp, composed well and telling the story of their day? On the film side, does the audio sound good, do the shots flow and is the coloring true and consistent from shot to shot? Is there a stylized coloring applied and do you like it or will it make it dated in a few years? How about the storytelling, do you feel like you get to know the couples from watching their films? A good wedding film should be interesting enough to watch even if you don't know the couple. If they can pull that off, imagine how much you will love your film, with you as the stars!
Make appointments to meet in person with your favs.
Once you narrow down your favorites, make appointments to meet with them. Make sure you will be meeting with the lead photographer or cinematographer who will be shooting your wedding. It's important that you not only like their work but their personality. They will be with you for the majority of your wedding day, so it's super important that you feel comfortable with them. Do they make you feel at ease and confident in their abilities. The wedding day is very busy, exciting and at times somewhat stressful. Your photographer and cinematographer should help you to feel at ease to be yourself and enjoy your day. And if the studio does not offer for you to meet with the actual artist who will be leading your shoot on your wedding day prior to booking, that should be a red flag. It's important that you have the face to face (or at least phone/skype if you are out of town) interaction prior to signing on the dotted line.
Think about an Engagement Session.

Decide if having an engagement portrait session is important to you. It is a great way to get to work with your photographer prior to the wedding day and experience their shooting style. It's also a great way for them to get a feel for how you feel best in front of the camera. Some couples are silly and fun, while others are more romantic or classic. It helps to know going into the wedding day that your photographer is going to already know your vibe and be more than ready to have a great day with you. Capturing beautiful, heartfelt, true to who you are imagery is an experience you share with your imagery team, and should be an enjoyable and exciting experience. In addition to the experience of it, you will end up with wonderful photographs that you can turn into heirloom artwork pieces for your home and for you to use on various wedding related items such as a save the date card or a signature guest book.
Decide if one or two photographers fits your needs best.
Think about having two photographers to capture different angles or even different parts of the day (such as the guys and the girls getting ready). Talk with the photographer about your day's plans and see if they feel you would benefit from having a second photographer. Generally smaller weddings with smaller wedding parties and smaller family photo needs can easily get great coverage with one experienced photographer. Larger weddings with big wedding parties and lots of family to be included in the photo session benefit from having a second shooter. And of course there are some moments where having two shooters is just ideal – such as your first look, walk down the aisle or other moments that you want to make sure to have different angles. On the video side having multiple shooters is a must. Ask if this is included. Because creating a wedding film requires capturing lots of different angles and staying solid in a shot, having multiple cinematographers and multiple cameras is necessary if quality is important to you.
A first look is a great idea.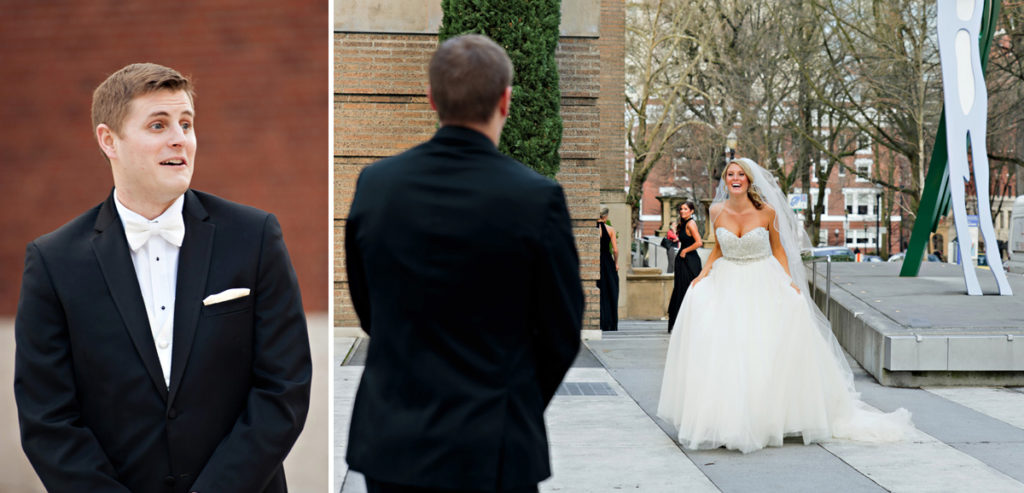 Think about having a first look prior to your ceremony. This allows the opportunity to get great photos with your hair and makeup fresh while spending more time to get a variety of different shots. Your wedding party and families will be happy to get the photos done before the wedding so they can simply go enjoy the reception afterwards instead of needing to be away for photos. And you will get to enjoy more time with your guests instead of spending time on photos while they wait for you. But aside from all of those logistical benefits, the first look gives you the opportunity to have a special moment just for the two of you. You get to hug and kiss and talk about how your morning was and how excited you are to get married. It's a wonderful moment and it doesn't take away from the impact of walking down the aisle. That moment is "that moment" and it will be overwhelmingly amazing either way. But if you don't have a first look, you meet at the ceremony and it's right into "dearly beloved". No time to hug or find out how your fiancé is feeling and share that private moment. Most of our couples opt for a first look, however occasionally we have a couple who choose not to. Often after the day, they mention they wish they would have had one – giving them more time with their guests and making the day more relaxed.
There are no "do overs" – Hire a true professional.
Hire a true professional. You put so much time, energy and money into all the details of your wedding day & after it's all over, the value of your imagery is priceless. Your wedding day is a big deal, there are no do overs, so you need to know that you are hiring a true professional who will perform at their best all day long. It's also important to know that they have multiple cameras and back up equipment just in case.
How does the photographer and videographer team work?
Learn about the teams working style on the day of. Often couples are concerned about how obtrusive their photography and videography team will be. One of the largest factors for us is getting to know you prior to the wedding day. Then when we show up on your wedding day, you already feel comfortable, relaxed and excited about us being there. We also have a very systematic approach, developed over the course of 15 years experience, to capturing the main events to ensure we get the best angles while being as unobtrusive as possible. A key element to this is having long lenses that don't require us to be close to the action but still get close up imagery. Investing in these high quality lenses is an important part of a professional wedding studio's gear. Some studios insist on using wider (often more budget) lenses and this will make them have to be in your face a lot more through the day. Asking where they usually stand during the vows and ring exchange is a great question to find out how much in your face they will be without having to know lens lengths and all the technical details of photography/cinematography.
See full weddings, lots of albums and full length films.
When you meet with a wedding photographer make sure you see several albums of full weddings, not just a few favorite images they have selected. Consistently catching all the action throughout the whole day is key with a great wedding photographer. When you meet with a wedding videographer expect to watch lots of films including a full wedding film. If they only show you super short highlight clips you should ask to see a full film, because you need to know that they can pull off a full film consistent with the quality of the other shorter samples they have shown.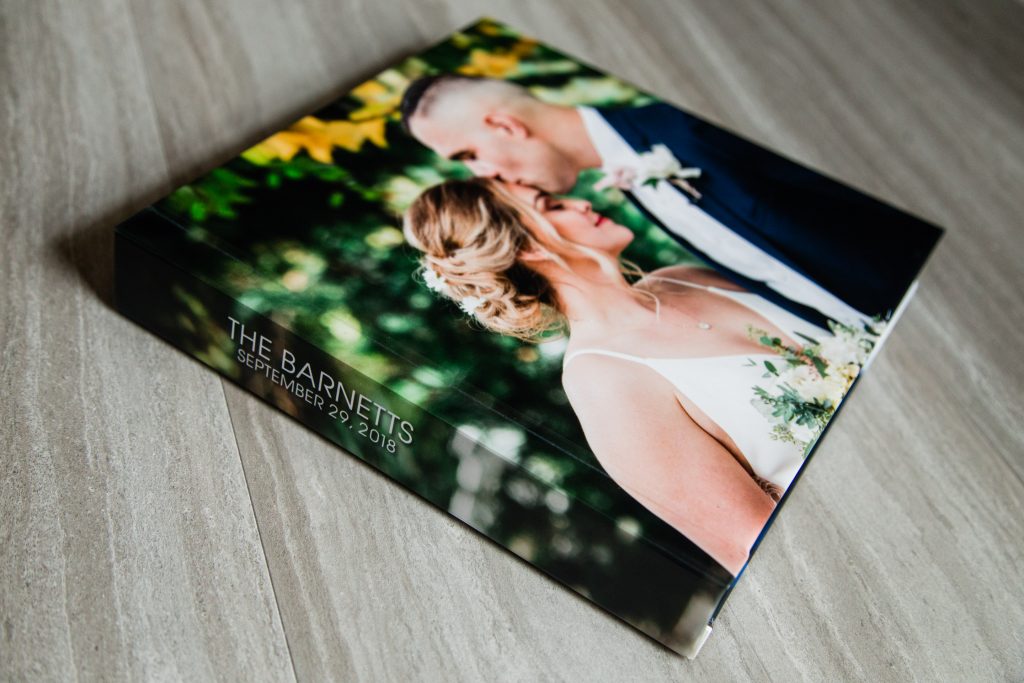 What is the process of working with the studio?
Ask them about their style of working with couples. Ask about the process pre-wedding (engagement session, details meetings etc.), how they work on the wedding day and of course the after wedding process. Some studios will simply post your photos online to download and you're cut loose from there. Other studios will meet with you and guide you as to all the options, such as creating one of a kind heirloom albums or gallery canvases with your images. Since most couples have little to no experience working with a professional imagery artist, having the studio guide you thru the process is extremely beneficial to getting the most value out of your investment.
Don't get swayed by a pressure tactic.
If you meet with a studio and their sales pitch is pressuring you to book, then they are not confident in their work and are afraid of what you will see when you meet with their competition. Don't get pressured into booking and regret the decision. You don't want to lag once you find the perfect studio for you, but don't fall into a sales pitch pressure tactic to book on the spot if you're not feeling it or feel uneasy.

Utilize the expertise of the professionals you've so carefully chosen.
Once you find your perfect studio to capture your wedding day, utilize their expertise. Consult them on suggested vendors you might still need. They are one of the few wedding vendors who work each wedding from morning till night and see all other vendors in action. Utilize their suggestions on schedule and timing. Again they do this all the time and know how much time is needed to create the art you fell in love with and chose them for.
Why hire an experienced professional?
Why hire an experienced professional wedding videographer and photographer? It's your one and only wedding day. An amateur or less experienced studio can't produce the quality of work that we offer. You don't get to do it over, don't trust your wedding memories to someone with less experience and talent. With a top professional studio you will get piece of mind knowing you can relax and enjoy your day and they've got you covered!

Thank you for reading our Photography & Videography Wedding Guide. We hope this was helpful for you to decide how to choose your wedding photographer & videographer. To learn more about our professional Wedding Video & Photography Collections, contact us today!
Ambient Sky is an international award-winning studio offering a more personalized, boutique experience for your wedding day. We would love to set up a meeting to walk you through our options and hear all the details of your wedding day.
Browse our blog and web site to see examples of our Couture Wedding Films™ and Portland Wedding Photography Collections.
Also, be sure to check out our testimonials to see what our clients are saying. We don't solicit testimonials. These are simply some of the pure unbridled, heartfelt comments our clients have shared with us after seeing the work we created for them! More rave reviews on Wedding Wire too.
Contact us to set up your no obligation consultation today to hear all the details.
Email: Info@AmbientSky.com
Phone: 503.318.4265
MORE FROM THE GUIDE…
Get more tips from the second and third parts of our Photography & Videography Wedding Guide at these links below:
Want tips on a stress-free wedding day? Check them out HERE!
Want to build your wedding day timeline with ease? Check it out HERE!
Happy Planning,
Amanda & Scott