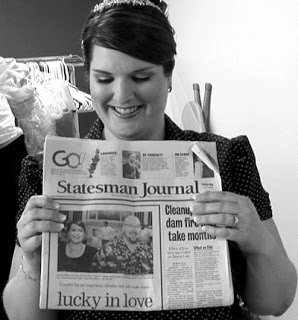 7-7-07 ~ Lucky In Love
We shot Laurie and Charles' wedding on one of the biggest wedding days of the year – July 7th, 2007. They were even featured on the front page of the Statesman Journal – the Salem newspaper!
The day was beautiful and we had a great time working with Laurie and Charles. The ceremony took place at the First Presbyterian Church – a wonderful location to shoot at. We worked with Michael and Brenda of Michael Hacker Photography, another husband and wife team who we enjoy shooting with.
Below is Laurie and Charles' two week teaser trailer. This comes in our Platinum package or as an add on to the Silver or Gold packages. Enjoy!


Here is a high quality Quicktime version. Right click and save to your desktop.